My Folders
---
Tired of double-clicking in Explorer windows to access the same folders every time? You put some shortcuts on your desktop but they take too much space and are not accessible when you are running an application? Then My Folders is for you!
My Folders allows you to define a keyboard shortcut that you can activate at any time, whatever the application you are running is. Press the key combination and a menu like this one will popup under your mouse cursor!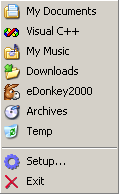 Choose one of the folders and an Explorer window browsing the selected folder will instantly appear. Of course the folders that appear in this menu are entirely customizable: you can even individually customize the icon that will appear next to each folder by selecting the icon of your choice! The keyboard shortcut is also fully customizable.
Also, if you activate My Folders while using a standard Open/Save dialog, then instead of displaying an Explorer window, My Folders will change the location of the Open/Save dialog so you can access your files even more quickly! This works in any application that uses standard Open/Save dialogs: Notepad, Wordpad, Paint, Microsoft Office, Adobe Photoshop, WinAMP... In Open/Save dialogs, My Folders can also be activated by right-clicking on the Help or the Close button.